Virtual Classroom for Schools
Create a virtual classroom to teach your students whilst distance learning.
Set up a webinar to teach, share documents, collaborate on a whiteboard and chat with students.
3CX Pro license is FREE for 12 months to help schools teach throughout the Coronavirus crisis.
Get your school setup to teach remotely with a FREE 3CX Pro Licence from Grapevine Connect
While schools have been forced to shut down around the globe, the demand for digital transformation in education has reached new heights. Many educators are struggling to move classes online as quickly and painlessly as possible.
It is hard for students to follow classroom assignments when teachers are not there face to face. With free web conferencing, Live Chat and Mobile Apps offered by 3CX, we hope teachers, students and parents can keep connected in virtual classrooms, allowing them to collaborate and keep education flowing.
Call us to get expert help for your school and receive a FREE 1 Year 3CX PRO license today!
Call us on 01392 345678 to discuss how we can help you setup virtual classrooms for your school or arrange a callback below.
Teach remotely through virtual classrooms
With 3CX WebMeeting you can host virtual lectures with your pupils, enjoying the benefits of face-to-face communication and collaboration. Attendees can join from their own desktop, iPad, tablet or mobile, allowing you to conduct your lessons from the safety of your home. Up to 100 students can connect simultaneously making it perfect for large university lectures to go on as usual.
Easy to use. Clientless. Simply Plugin & download
Integrated with 3CX. Free for up to 100 users simultaneously
WebRTC technology for high-quality video and voice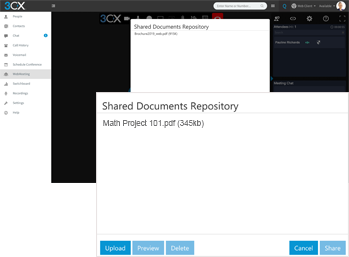 Share documents and interactive whiteboards with students
Enhance your ability to teach remotely with powerful collaboration tools, including screen-sharing, polling, and whiteboard. By sharing the same screen content, such as a document, image or chart, your students can see exactly what you are referring to avoiding any confusion or misunderstanding. Easily map your ideas on the online whiteboard and start a conversation with your students, wherever they are located physically.
Remote control and screen and document sharing
Keep track of pupil attendance
Receive feedback from your participants with polling feature
Record your sessions to allow students to learn at their own pace.
Keep parents up to date with powerful built-in tools
Keep parents and guardians informed with the latest school developments during lockdown. With the 3CX Live Chat & Talk plugin, you can quickly and easily add live chat support on your school website, enabling parents and students to chat or call staff in real-time. For higher education institutes, Live Chat can be used to hold office hours that comply with safeguarding procedures, so students can quickly get questions answered and their work reviewed. Whats more, students and parents can also communicate with the 3CX smartphone apps and a web app for making and receiving calls, chat and more.
Help parents and students with queries in real-time
Phone, Video and Chat from one interface
Android and iOS apps. Completely free
End-to-end secure calls via tunnel encryption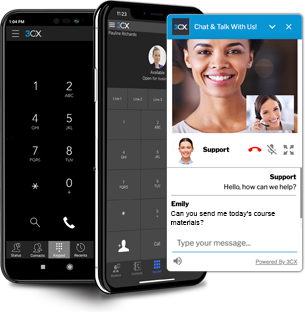 Get expert help for your school now and make use of this fantastic offer from Grapevine Connect. Call Us on 01392 345678