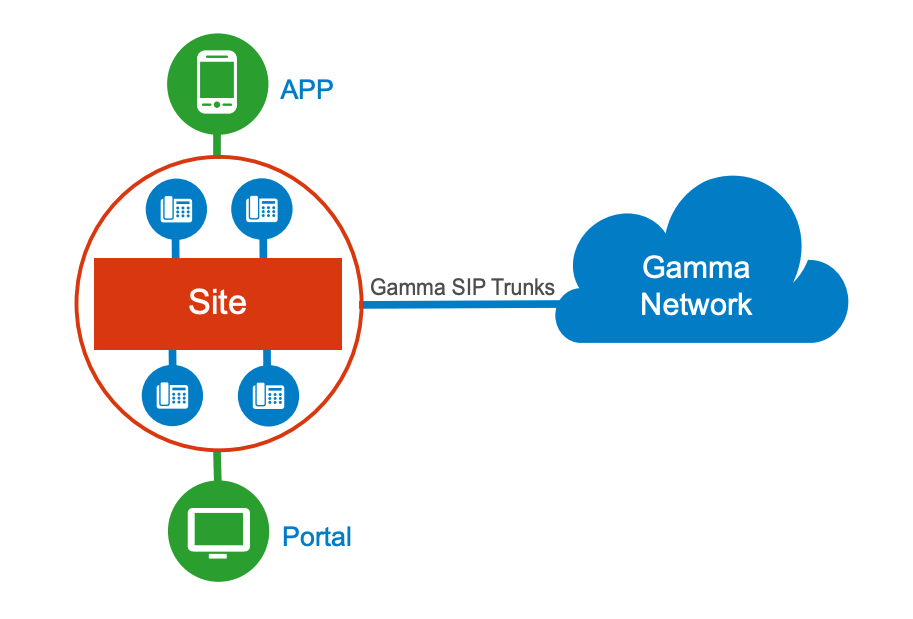 SIP Trunk Call Manager
SIP Trunk Call Manager provides you with all the benefits of Gamma Direct Routing together with featurerich, centralised call control. This includes our marketleading call bundles and the only fraud management tool that financially indemnifies you against loss.
SIP Trunk Call Manager offers a powerful business continuity solution, giving you the ability to manage your number estate and all aspects of your inbound calls. Consolidate all your numbers onto a single platform and never miss a call!
Could SIP Trunk Call Manager benefit your business?
Yes, if you are in need of a solution offering powerful business continuity or the ability to fully manage your entire number estate directly via your SIP trunks.
What are the benefits?
Taking SIP beyond a connectivity service, into a world of feature-rich applications – putting you in control:
Tailored Business Continuity – never miss a call
A direct ISDN replacement – save up to 50% on call costs
An enhanced SIP service – giving you full and direct control of your inbound numbers
01, 02, 03 and 08 termination on subscribed Gamma Direct Routing services – no number translation
One point of contact providing your direct routing service and call management via one simple solution
SIP Trunk Call Manager Key features and benefits
| | |
| --- | --- |
| End user control of: | Business Benefits |
| Geo or Non-Geo termination directly on the SIP endpoint | Terminate any 01, 02, 03 or 08 number and control via an intuitive online portal or app |
| Termination on number | Redirect inbound calls to achieve business continuity and flexible working |
| Time / day of week routing | Schedule call routing in advance according to business hours and call handling preferences |
| Divert on busy / out of office / no answer | Maximise call handling potential and provide improved service to the caller |
| Snapshot Management Information Statistics | View call handling performance at a glance and monitor inbound call handling efficiencies |
| Email alert on missed call | Ensure you are notified of any unanswered/engaged calls – ideal management tool for ensuring staff productivity and following up every sales lead |
| 'One Touch' business continuity | Pre-build designated business continuity call plans for your Inbound number(s) with the ability to invoke/restore last active call plan instantly – immediate business continuity in the event of office evacuations |
| Date routing | Set up date-specific routing in advance – e.g. Bank holidays |
| SIP Trunk Call Manager app | Provides a user with quick access to key functionality and ability to view essential call stats whilst on the move and access to call plan routing changes via a handheld smartphone/device |
| Hunt groups | Serial, random, prioritised or simultaneous hunt group enables calls are answered by specific people or the most available person |
| Call distribution | Serial, hunt group and percentage-based routing enables load balancing of calls across sites or teams |
| Call queuing | Queue incoming calls on destination number to assist with call handling during peak busy periods. End user configurable announcements, breakout and overflow options. Live queue stats for effective queue management |
| Voicemail | Demonstrate great customer service by providing callers with an option to leave a message when unavailable to take their call. Customise voicemail messages to prompt users to leave details for a call back |
| Advanced statistics | Online access to comprehensive call statistics which enable informed business decisions. Advanced management information relating to call handling efficiencies; productivity, call patterns and caller behaviour. Data includes time to answer, call waiting time, call outcome and caller details |
| Push reports – Advanced statistics via email | Provides recipients with full or summarised advanced statistics reports via email for daily, weekly or monthly periods |
| Call Whisper agent notifications | Popular applications include: the ability for advertisers to businesses of leads they have generated for them or the provisioning of an announcement to be played to the call answering agent on call pick up which prompts them to answer the incoming call with the appropriate greeting thus providing a professional and personal impression to the caller |
Combine these features with the ability to fully control all aspects of the service via a unique web based portal and App service and you get an incredibly powerful solution.
The following features are chargeable, optional extras
| | |
| --- | --- |
| End user control of: | Business Benefits |
| Area control | Used to define call routing, based on the originating telephone number, for a pre-defined area name consisting of one or more area codes or CLI's. Custom areas are built by end user by programming the area control feature |
| IVR | Interactive Voice Response control feature enables creation of personalised menu announcement with up to 10 options played to the caller, each leading to defined call routing/action based on the caller's key press |
| Announcements | A broadcast, relaying information such as key events, offers or disaster recovery info which can be combined with an underlying call plan to play to the caller prior to the call connecting, or as a message prior to cutting the call |