Construction Site WiFi
Reliable internet for any construction site
No fixed lines required
Can be paired with onsite VoIP Telephone Systems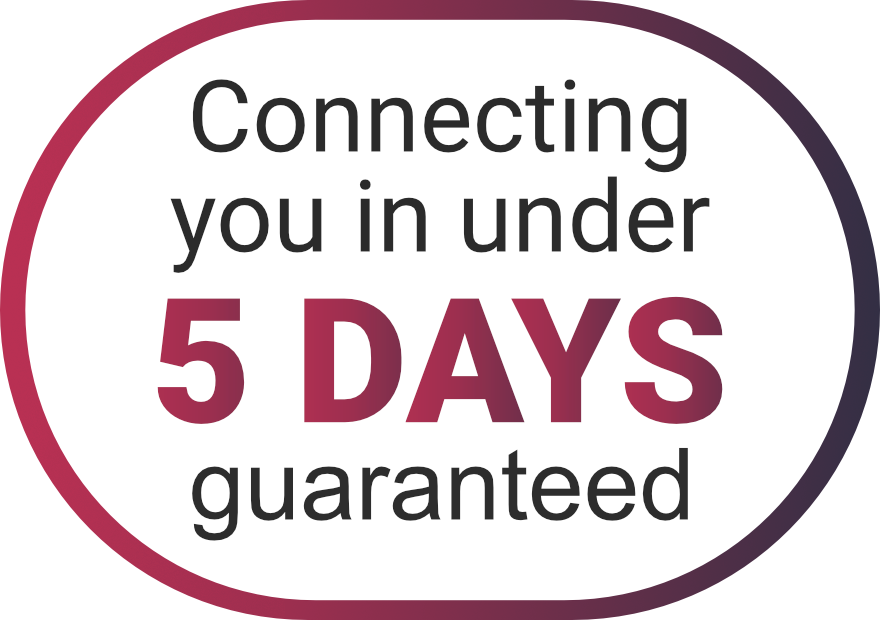 High Quality Construction Site WiFi Rental Solutions
BASIC SIM
 Included
Basic 4G Router
600Gb data allowance per month
WiFi (2.4GHz)
2x Low Gain Indoor Cellular Paddle Antenna
2x Ethernet LAN Port
Basic 5 day 8:30-17:30 support
ENHANCED SINGLE SIM
Most Popular

 Included
Engineer desktop survey prior to dispatch
Ruggedised Case
Peplink Enterprise Single Cellular 4G Router
WiFi (2.4GHz)
2x Ethernet LAN Port
100Mbps Router Throughput
2x High Gain Indoor Cellular Antenna
5m Antenna Extension Lead
Enhanced 5 Day 8:30-17:30 Support
ENHANCED DUAL SIM
Recommended

 Included
Engineer desktop survey prior to dispatch
Ruggedised Case
Peplink Enterprise Dual Cellular 4G Router
1.2 Terabytes (TB) data allowance per month
Load-Balancing of data across two cellular networks
WiFi (2.4GHz or 5GHz)
4x Gigabit Ethernet LAN Ports
120Mbps Router Throughput
4x High Gain Indoor Cellular Antenna
2x 5m Antenna extension lead
Enhanced 7 Day 8:30-17:30 Support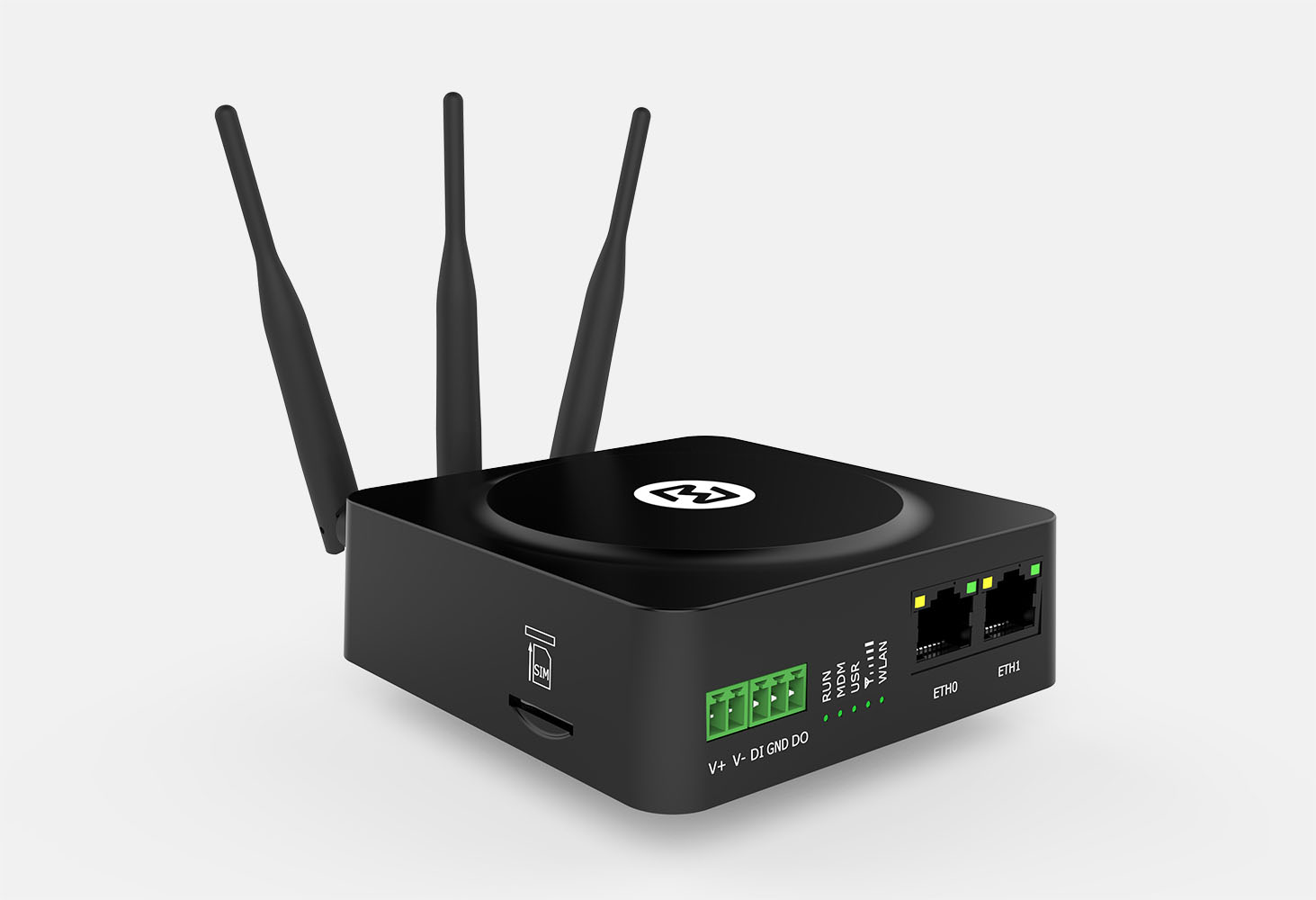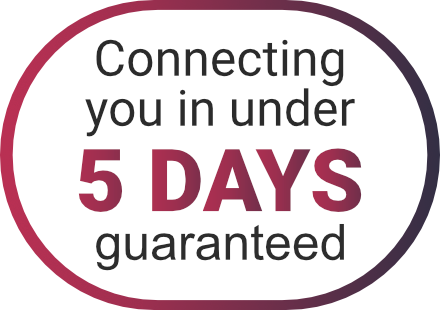 Our basic single SIM router is great for a site office or new home owner. It's our entry-level product but still comes with 600Gb of data per month data to allow plenty of downloads and upload capacity. Twinned with built-in WiFi and Ethernet LAN ports, the router will allow any site manager or office staff the ability to connect to the internet in no time at all.
Call us today on 01392 345678 to get your construction site online fast!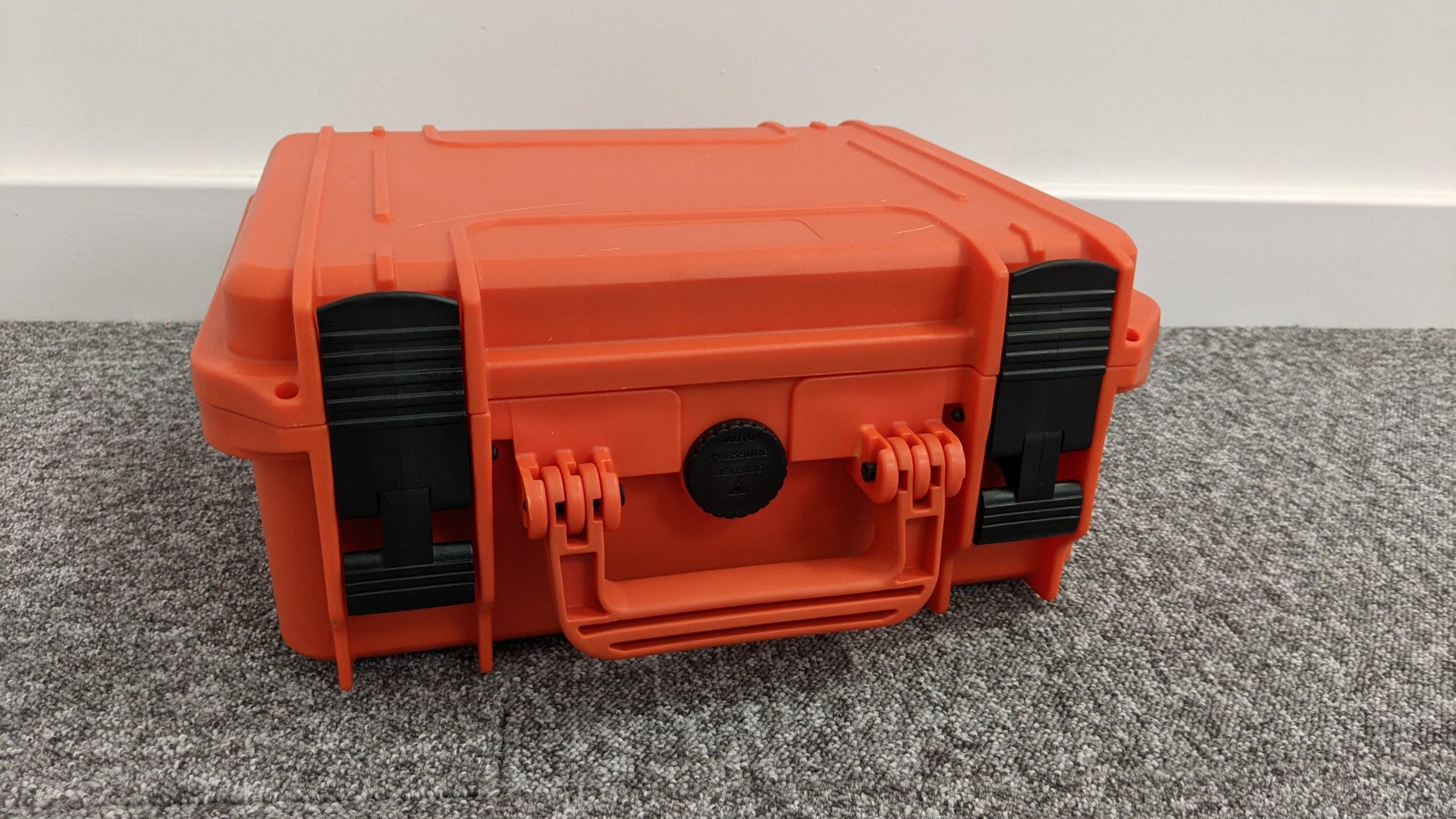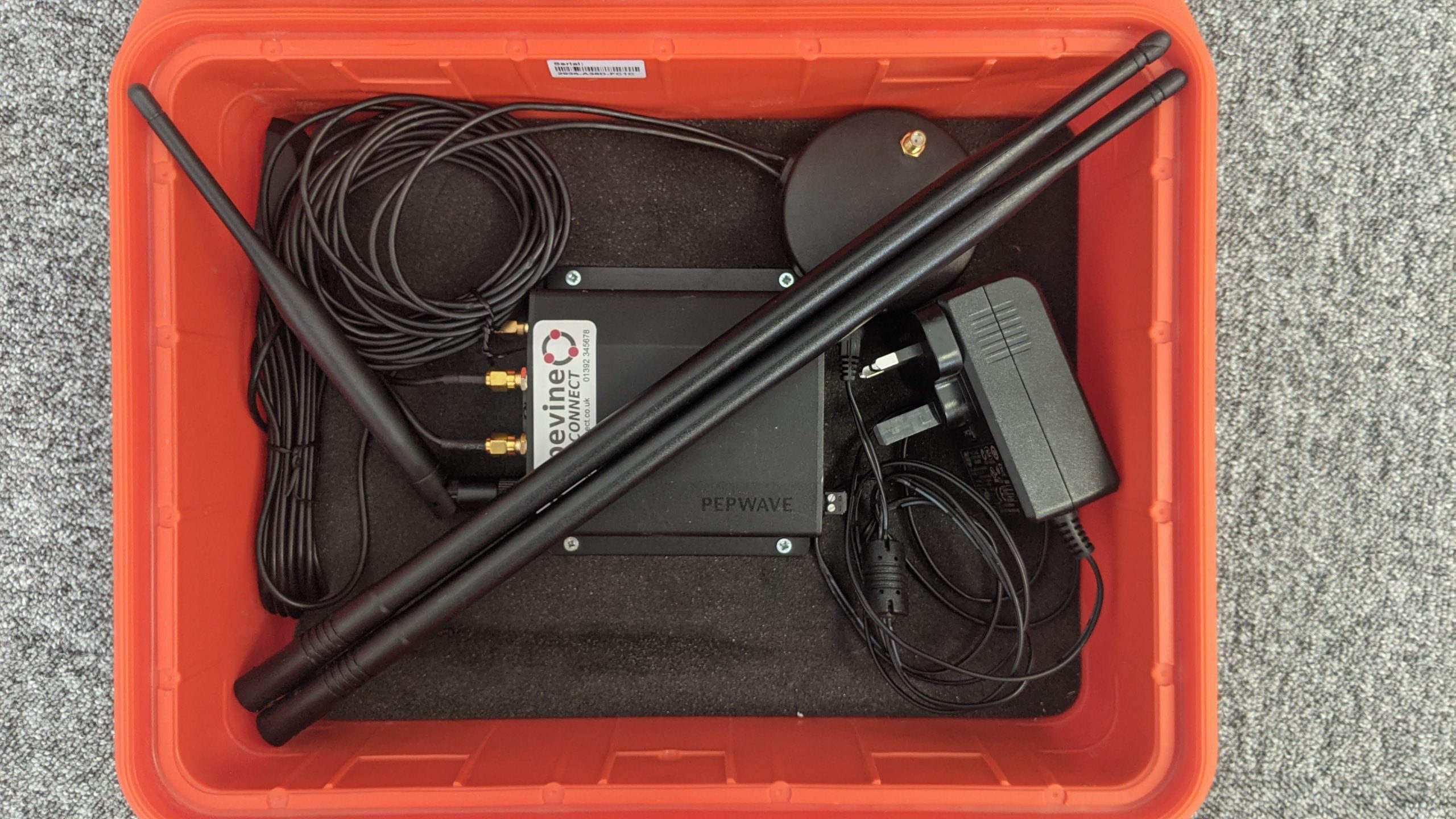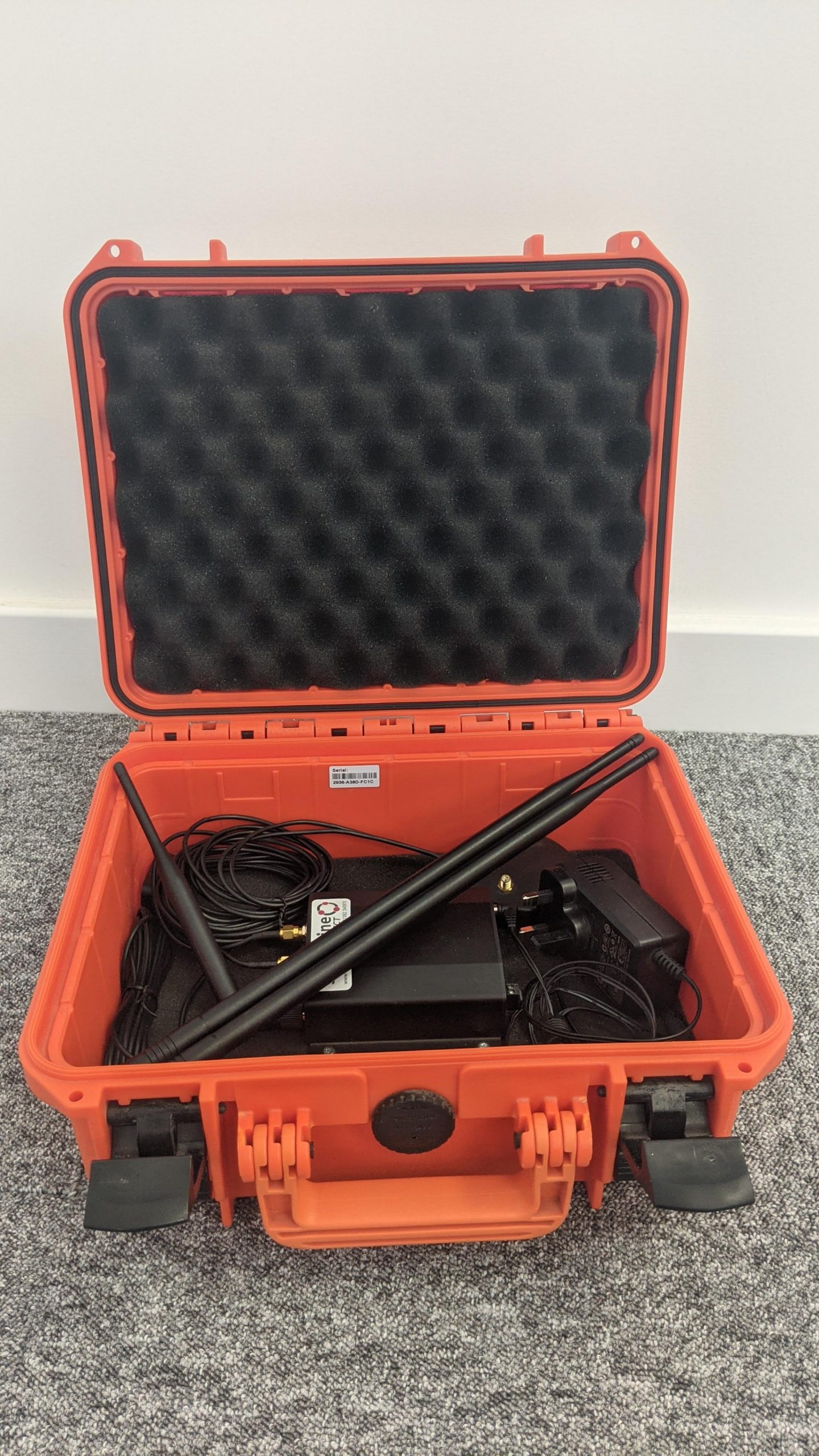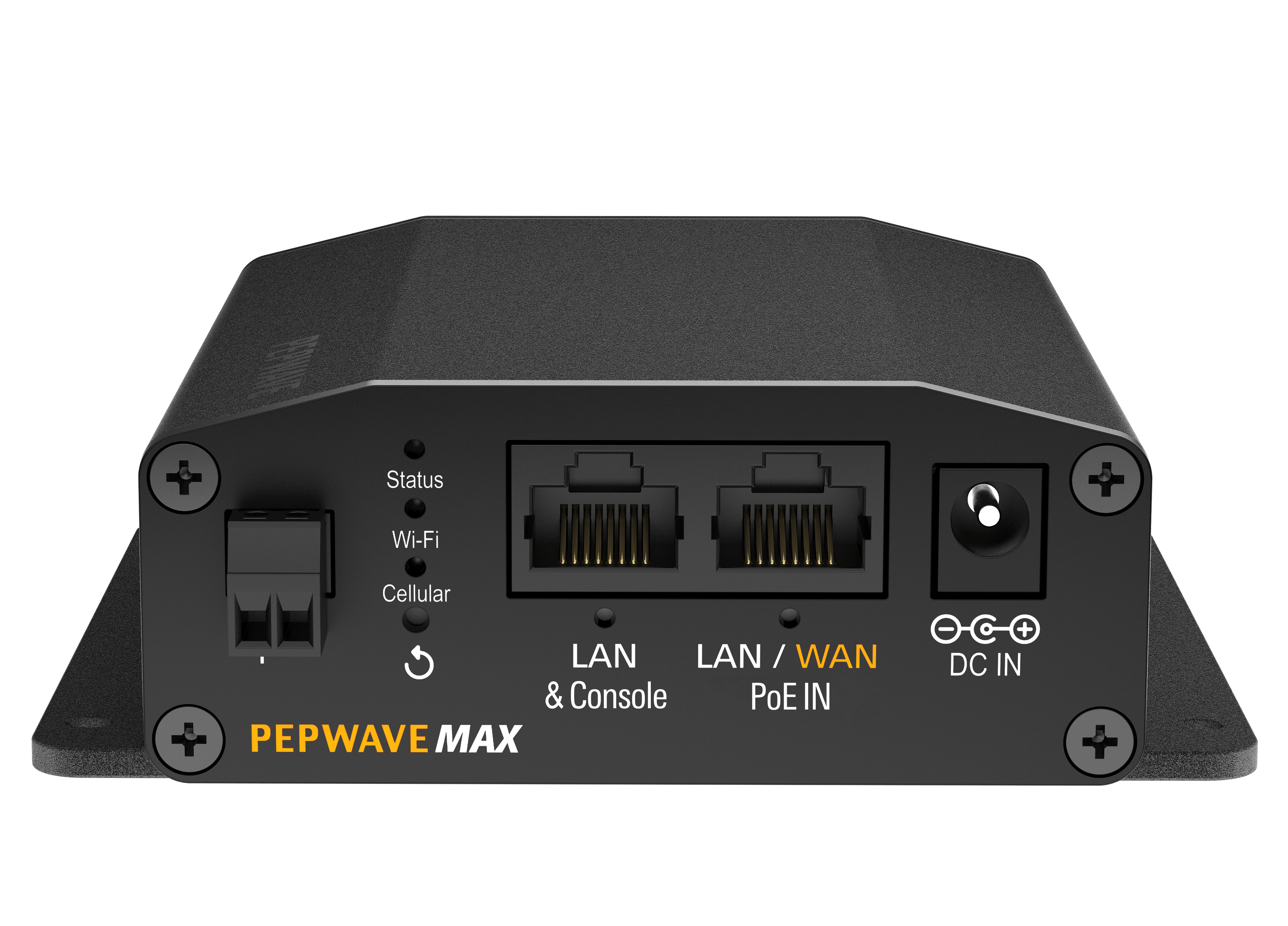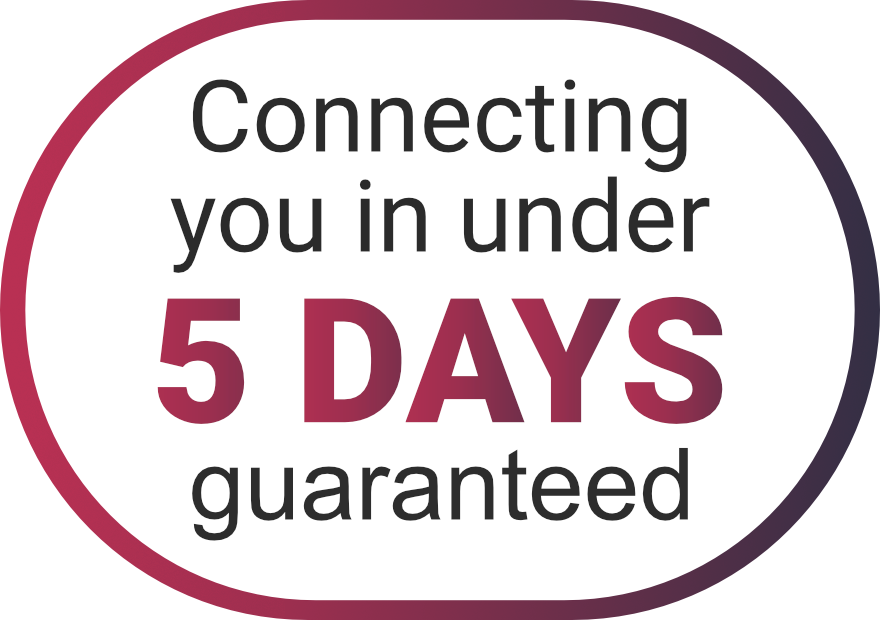 What is an Enhanced Single SIM?
Our Enhanced Single SIM is our most popular rental product. We have deployed hundreds of devices with the majority arriving with the customer the very next working day.
Firstly, upon the point of order, we carry out a detailed engineer led desktop survey. This is a vital set-up in the process as it means that we can optimise the device before sending it to you. The device is delivered in a bright orange ruggedised case which is perfect to keep the equipment safe.
Enclosed is an Enterprise-grade cellular 4G router that boasts some of the best features on the market. WiFi & 2 Ethernet LAN ports provide site offices easy connectivity to both laptops, desktops, mobiles devices and printers etc.
A very important element of our devices is that we include an internal high gain cellular antenna. After all, you could have a great router but if the antenna that picks up the cellular networks is low gain, the speed and reliability will not be as great. The antenna also comes with a magnetised 5-meter extension which means that the antenna can be placed on top of a filing cabinet near a window for example.
All of this is wrapped with our full 5 days a week support package. Any changes or issues can be reported directly to our support team who will answer your call or email quickly to help with your query.
If you need bespoke configuration including options to create connections directly into your corporate network, get in touch.
Call us today on 01392 345678 to get your construction site online fast!
Our Enhanced Dual SIM is the most resilient of our 3 options. This is because it boasts an Enterprise-grade router that will connect to two different cellular networks at the same time. This means that should one carrier have a network outage or possibly carrying out maintenance on the local masts, your business will not be left in the dark.
This router includes all the features and benefits from our Enhanced single SIM option + more. Upon order, we will carry out engineer led desktop surveys to optimise the device prior to shipping or engineer installation.
As the devices have 2 separate carriers (O2 & Vodafone), we include 1.2 terabytes (TB) of data per month! This means that even the most resource-hungry sites can operate without a hiccup. No more need to try and view detailed site plans via a remote PC, download them, print them and don't worry about hitting any usage caps during the month.
The Enterprise-grade router comes with not just 2.4GHz WiFi but also 5GHz to offer much faster browsing speeds. Additionally, with 4 built-in LAN ports, printers, VoIP handsets and more can all be plugged directly into the device without the need for additional network switches to be installed on site.
Finally, the service is wrapped with a fully supported 5 day a week (8:30-17:30) support package.
We have two options with the Enhanced Dual SIM package: 1) Bonded & 2) Load-Balanced. Read the below sections to see which would suit your site office best.
Bonded – What does it mean?
As mentioned above, our Enhanced Dual SIM routers work on two separate carrier networks. This means that you have full failover resiliency. But, there is another advantage, we can bond both of the connections together to create a single 'pipe' out to the internet. Watch the video to find out more.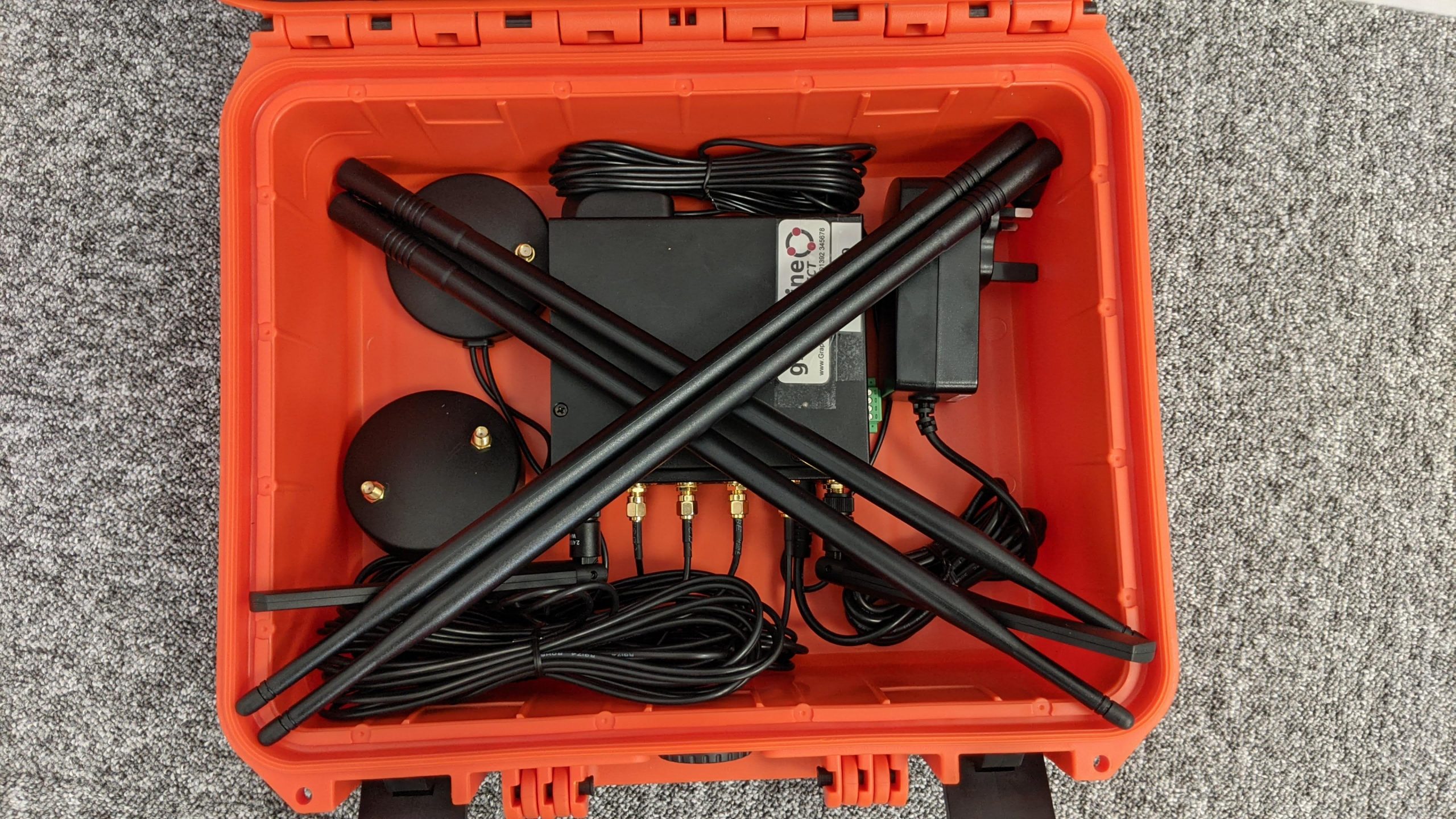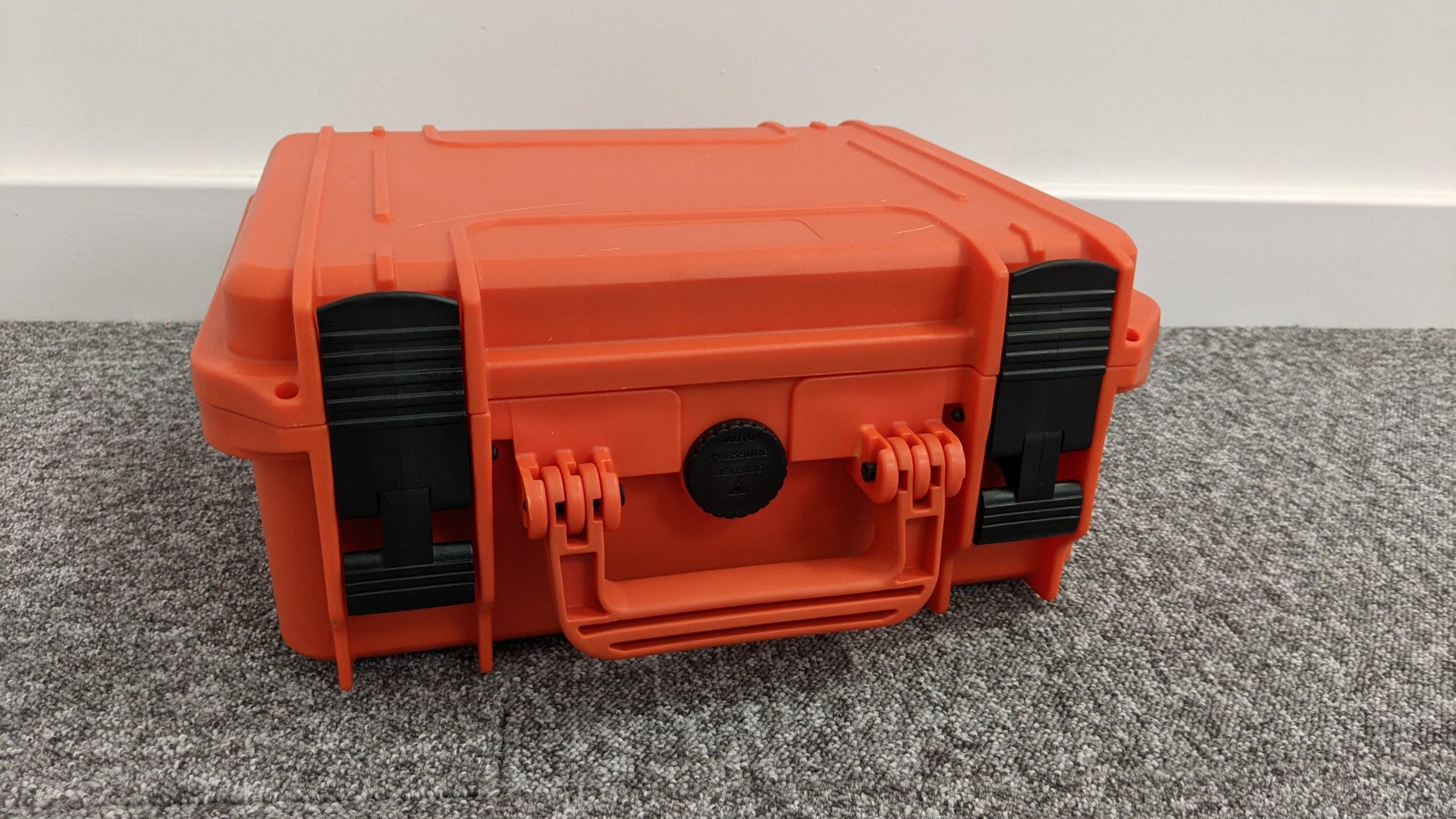 Load Balanced – What does it mean?
Unlike the bonded option above, Load balancing works slightly differently. This will send your internet traffic out over only one of the cellular connections at a time.
For example, two people are working in the office. User A starts downloading a file from the company shared drive. The router will allow this download to only use one of the cellular connections. User B at the same time starts watching a video online. The router will send this traffic out/in over the other connection.
The two cellular connections are not bonded together but instead balance the load of the internet traffic across the available cellular connections.
Engineer Installation & Commission
Call us today on 01392 345678 to get your construction site online fast!
Grapevine Connect Provides Reliable Broadband for Temporary Construction Sites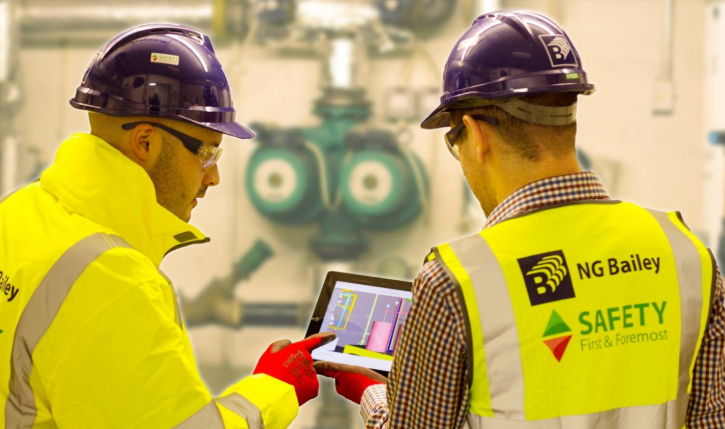 All businesses need reliable high-speed internet, and construction sites are no exception.
Executing vital comms through reliable WiFi connectivity is paramount to effective communication between site teams, meeting build deadlines, improve reporting and maintenance and reducing site hazards.
Most commercial broadband providers have challenges providing connectivity in rural locations, or take a fair amount of time setting up fixed lines; leading to build delays and communication complications onsite.  It can prove a tough obstacle finding a reliable solution to create a Smart site.  Grapevine Connect has the answer…
Construction Site Wifi Services We Provide
Utilising our Peplink and 3CX partner technology we can provide rapid temporary internet solutions to construction companies in no time. We have equipped the likes of  NG Bailey, Redrow and Devonshire Homes with a range of connectivity solutions to power their builds and we would love to work with you to do the same. This solution can be used as a temporary or permanent solution depending on the build requirements and as the solution comes boxed, it is durable for the most challenging environments and can be setup with no-hassle.
This connectivity can also be paired with our add-on connectivity solutions to build a SMARTER site.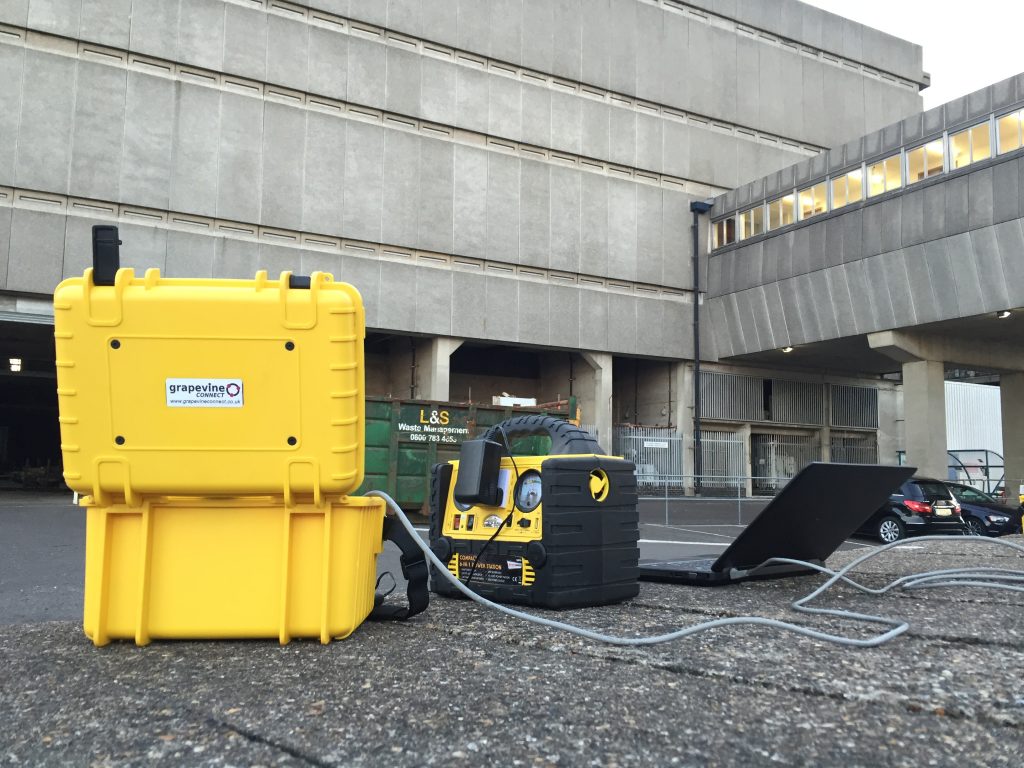 Call us today on 01392 345678 to get your construction site online fast!
If you are a site manager on a major construction site looking for temporary internet solutions, or a sales manager looking to relieve a connectivity problem for a household purchase, Grapevine can deliver the solution to your needs.
Arrange a call back to get your construction site online quickly with Grapevine Connect